Metanet Hunter G4
Metanet Hunter G4 ("Generation 4") is the latest and greatest entry to the Metanet Hunter series. It is a callback to the previous Metanet Hunters, and has improved the formula dramatically. More kinetic, and more kickass. Obliterating the Orbs has never been this good.
Currently, the game is in active development, and will see a release at the beginning of 2020. I have high hopes for this title. Hopefully you'll enjoy playing it as much as I've enjoyed cooking it up.
Game Types
Campaign Mode: Play through six specially-crafted stages, and defeat all those boss monsters! Can you take down the Metanet Terminal? Go for it!
Random Mode: Clear a plethora of randomly-selected micro-stages! How far can you get? You might even discover an exclusive boss or two.
Treasure Hunt: A little bit of a coffee-break style game mode. You'll be able to select various stages, and they're a little more relaxed, a little more explorative. Collect the treasure, and you've cleared the stage! Simple as that.
Fun Features
Various game modes to enhance replayability!
40 different screen palettes to unlock! I hope you'll find a favorite, or three.
Different weapon types? How about at least 20? Now you've got tons of options when it comes to obliterating some orbs.
CHEAT CODES, CHEAT CODES, CHEAT CODES. We're going to have lots of fun with the kinds of codes you can throw in there, and so will you.
All that RodeoNET charm. Y'know it.
What's the story?
You're the Metanet Hunter. In the Campaign Mode, you've been tasked with venturing out to different planets, each infected by the presence of Chaos Orbs. It's up to you to discover why they're causing trouble in each level, and it's equally up to you to defeat their protective guardians. That means boss fights, and boy oh boy, are you in for a treat. I've made sure every boss encounter is an engaging one.
When does this come out?
Q1 2020. For sure. We've got four of the base-game stages done at this time, and I plan to have the game completed by the end of this year. Extras and all. Stay tuned, literally too. I'll be firing up some podcasts on the RodeoNET Roundup, and you'll hear all about it in there.
Can I help?
You sure can. Spread the word. Tell your friends. Metanet Hunter G4 is coming to a theatre near you, and I need all the support I can get.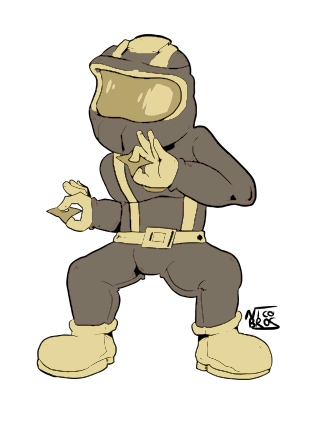 Purchase
In order to download this game you must purchase it at or above the minimum price of $2.49 USD. You will get access to the following files when they are released: